Tracking

GPS shoe helps track seniors with Alzheimer's

Published 8 February 2012

For $300 consumers in the United States can now purchase a pair of GPS-enabled shoes to keep track of dementia-suffering senior citizens; after purchasing the shoes, buyers will have the ability to set up a monitoring service to locate lost family members who have Alzheimer's disease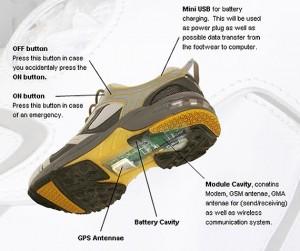 GPS locator embedded to help locate wandering Alzheimer's patients // Source: pc00.com
For $300 consumers in the United States can now purchase a pair of GPS-enabled shoes to keep track of dementia-suffering senior citizens.
Developed by GTX Corp and Aextrex Worldwide, the first 3,000 pairs of shoes just recently hit stores.
After purchasing the shoes, buyers will have the ability to set up a monitoring service to locate lost family members who have Alzheimer's disease. The device can even be programmed to create a "geofence," where an alert would be triggered if a person strays outside of a certain area.
Andrew Carle, a professor at George Mason University's College of Health and Human Services and an adviser to the project, explained that the shoes can help save the lives of senior citizens and minimize risk.
"It's especially important for people in the earliest stages of Alzheimer's who are at the highest risk," Carle said. "They might be living in their home but they're confused. They go for a walk and they can get lost for days."
Sizty percent of those with Alzheimer's wander off and become lost and nearly half of those not found within one day could die of dehydration, exposure, or injury.
Carle said that other GPS tracking devices like bracelets or pendants offer similar protection, but are not as effective because seniors often reject them.
"The primary reason is that paranoia is a manifestation of the disease," Carle explained. "If you put something on someone with Alzheimer's that they don't recognize, they remove it. If it's a wristwatch and it's not their wristwatch, they will take it off. So you have to hide it."
With the GPS shoes, the tracking device is embedded in the heel and from the outside it looks like a normal walking shoe.
Originally the two companies began developing the shoes for runners and children, but ultimately decided that they would be best suited to helping senior citizens with Alzheimer's maintain a safe, healthy, and active lifestyle.