Bioterrorism

Research on enhanced transmissibility in H5N1 influenza: the debate continues

Published 10 October 2012

How can scientists safely conduct avian flu research if the results could potentially threaten, as well as save, millions of lives? Enhancing and analyzing the transmissibility of the H5N1 virus could, on the one hand, provide insights that could help prevent or treat a future outbreak of H5N1, or, on the other hand, it may provide a roadmap for a bad actor deliberately to bring about an influenza pandemic or lead to an inadvertent release of a virus with enhanced transmissibility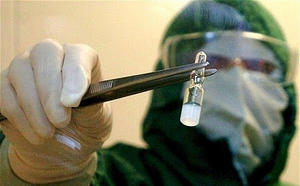 Debate continues over safe H5N1 virus research // Source: oparlapipas.com
How can scientists safely conduct avian flu research if the results could potentially threaten, as well as save, millions of lives? In a series of commentaries appearing on Tuesday, 9 October, in mBio, the online open-access journal of the American Society for Microbiology (ASM), prominent microbiologists and physicians argue the cases both for and against lifting a voluntary moratorium on experiments to enhance the ability of the H5N1 virus to move from mammal to mammal, so-called gain-of-function research, and discuss the level of biosecurity that would be appropriate for moving that research forward.
An American Society for Microbiology release reports that in January 2012, in response to the controversy caused by the unprecedented recommendation of an advisory board to the government to redact methods sections of two research studies showing how genetic changes could make H5N1 become transmissible between mammals, a group of influenza researchers agreed to a voluntary pause on any research involving highly pathogenic avian influenza H5N1 viruses leading to the generation of viruses that are more transmissible in mammals. Despite both articles eventually being published in full in May and June 2012, the research moratorium remains in place.
"The scientific community and the greater society that it serves are currently engaged in a vigorous debate on whether and how to carry out experiments that could provide essential information for preparedness against a pandemic of avian influenza. To foster discussion and to provide a venue to record the arguments for or against this moratorium, mBio has commissioned a series of views from experts in the field," write Arturo Casadevall of the Albert Einstein School of Medicine, editor-in-chief of mBio; and Thomas Shenk of Princeton University, chair of the ASM Publications Board, in an introductory editorial.
Enhancing and analyzing the transmissibility of the H5N1 virus could, on the one hand, provide insights that could help prevent or treat a future outbreak of H5N1, or, on the other hand, it may provide a roadmap for a bad actor deliberately to bring about an influenza pandemic or lead to an inadvertent release of a virus with enhanced transmissibility.