Disaster insurance

Lloyd's says countries are under insured against natural disasters

Published 30 November 2012

Lloyd's of London, the world's largest insurance company, has warned seventeen countries that a $165 billion global insurance deficit leaves them vulnerable to long-term natural disaster costs; Lloyds says the world may not be able to afford another year like 2011, when natural disasters such as the earthquake and tsunami in Japan and the floods in Thailand caused $4.6 trillion dollars of damage to infrastructure, homes, and businesses, and which resulted in the largest disaster claims ever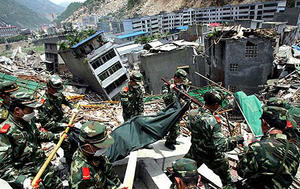 China was vastly underinsured when 2008 Sichuan temblor struck // Source: zing.vn
Lloyd's of London, the world's largest insurance company, has warned seventeen countries that a $165 billion global insurance deficit leaves them vulnerable to long-term natural disaster costs.
Lloyds is made up of eighty-seven insurance syndicates that do face-to-face business between brokers and underwriters. The Guardian reports that according to Lloyds, the world may not be able to afford another year like 2011, when natural disasters such as the earthquake and tsunami in Japan and the floods in Thailand caused $4.6 trillion dollars of damage to infrastructure, homes, and businesses, and which resulted in the largest disaster claims ever. The claims put Lloyds into a $668 million loss, the first annual loss since the 9/11 attacks.
The insurance industry as a whole incurred $107 billion in claims last year. Lloyds has already said that this year will be less expensive even with Hurricane Sandy and the Costa Concordia disaster.
China, Poland, Thailand, Columbia, Mexico, and Saudi Arabia are just a few of the countries that Lloyds has identified as being under-insured against natural disasters, according to research done by the Centre for Economic and Business Research (CEBR). According to the study, the cost of the catastrophes grew by $870 billion in real terms since 1980.
Lloyd's chief executive, Richard Ward, said the economic growth in countries such as China, Brazil, and India have led to more damage than in the past. "I'm not a meteorologist but it does feel as though catastrophic events are becoming more extreme," Ward told the Guardian.
As the cost of damages from natural disasters rise every year, Lloyds issued warnings to several countries. As governments start to invest more money in flood barriers and coastal defenses, Lloyds has been doing more research, estimating the costs of new risks in countries where underinsurance is most important.
"Too many high-growth countries are failing to take the steps required to prepare properly for these sorts of events, leaving people and businesses exposed," Ward told the Guardian. "As high-growth economies continue to develop and supply chains become increasingly interconnected, now is the time to ask ourselves: can the world afford to keep taking such a big risk?"
China shares the largest of the global insurance shortfall; more than $75 billion last year. The country insured just 1.4 percent of losses from natural disasters between 2004 and 2011, with $208 billion in uninsured losses. Damage from the 2008 Sichuan Earthquake was estimated at $125 billion, but only 0.3 percent was covered by insurance, which left China to cover almost the entire bill.
"China is a very rich country with phenomenal foreign reserves," Ward said. "There could be an attitude that this is a loss the state can bear."
Douglas McWilliams, the founder and chief executive of the CEBR said that insurance is important in making sure the economic growth of a country can keep growing.
"The 'insurance gap' has a huge and lasting impact on the ability of businesses, governments and people to recover from the earthquakes, hurricanes, flooding and forest fires that affect us all every year," McWilliams told the Guardian."This means lost orders, lost jobs and wasted taxpayer money as a failure to prepare ahead of such events creates costs that are more severe and unmanageable."