Surveillance

Federal judge: NSA's collection program violates Constitution

Published 17 December 2013

A federal judge, describing the NSA metadata collection program as "almost Orwellian," yesterday ruled that the program which systematically collects and keeps records of all Americans' phone calls most likely violates the Constitution. "I cannot imagine a more 'indiscriminate' and 'arbitrary' invasion than this systematic and high-tech collection and retention of personal data on virtually every single citizen for purposes of querying and analyzing it without prior judicial approval," Judge Richard J. Leon wrote. "Surely, such a program infringes on 'that degree of privacy' that the founders enshrined in the Fourth Amendment."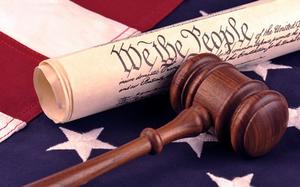 Federal judge has ruled against federa agency overreached // Source: bigstockphoto.com
Judge Richard J. Leon of the Federal District Court of the District of Columbia, yesterday ruled that the National Security Agency (NSA) program which systematically collects and keeps records of all Americans' phone calls most likely violates the Constitution.
The judge ordered the agency to stop collecting data on two plaintiffs' personal calls and destroy the records of their calling history.
In his 68-page ruling, Judge Leon described the program's technology "almost Orwellian," and suggested that James Madison, the author of the Constitution, would be "aghast" to learn that the government was encroaching on liberty in such a way.
"I cannot imagine a more 'indiscriminate' and 'arbitrary' invasion than this systematic and high-tech collection and retention of personal data on virtually every single citizen for purposes of querying and analyzing it without prior judicial approval," Judge Leon wrote. "Surely, such a program infringes on 'that degree of privacy' that the founders enshrined in the Fourth Amendment."
Judge Leon stayed his injunction "in light of the significant national security interests at stake in this case and the novelty of the constitutional issues," allowing the government time to appeal it, a matter that he said could take some six months.
The New York Times reports that Judge Leon was appointed by President George W. Bush in 2002.
The Times notes that the ruling is the first successful legal challenge brought against the NSA collection program since the program was revealed by Edward Snowden in June.
The challenge was brought by plaintiffs led by Larry Klayman, a conservative public-interest lawyer. The American Civil Liberties Union (ACLU) has filed a similar lawsuit in the Southern District of New York.
Snowden released the following statement through Guardian journalist Glenn Greenwald:
"I acted on my belief that the NSA's mass surveillance programs would not withstand a constitutional challenge, and that the American public deserved a chance to see these issues determined by open courts," Snowden said. "Today, a secret program authorized by a secret court was, when exposed to the light of day, found to violate Americans' rights. It is the first of many."
The Times notes that the ruling, while long and detailed, is not a final judgment. Rather, it is a preliminary injunction to stop the data collection while the plaintiffs pursued the case. The injunction is turned on whether there was a substantial likelihood that the plaintiffs would ultimately prevail and whether they would suffer substantial harm in the meantime.