Immigration

People want to donate diapers and toys to children at Border Patrol facilities in Texas. They're being turned away.

The substandard living conditions in Border Patrol facilities holding migrant children have been described in great detail over the past few weeks. Last week, an attorney for the U.S. Department of Justice argued in court that the government shouldn't be required to give migrant children inside Border Patrol detention facilities toothbrushes, soap, towels, wipes, diapers, blankets, or showers. A Border Patrol official told a Texas state lawmaker that the agency doesn't accept donations for facilities where children are reportedly being held in substandard conditions.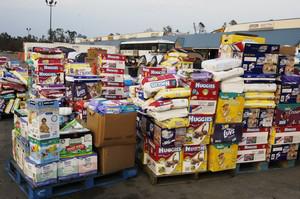 People want to donate like this // Source: commons.wikimedia.org
On Sunday, Austin Savage and five of his friends huddled into an SUV and went to an El Paso Target, loading up on diapers, wipes, soaps and toys.
About $340 later, the group headed to a Border Patrol facility holding migrant children in nearby Clint with the goal of donating their goods. Savage said he and his friends had read an article from The New York Times detailing chaos, sickness and filth in the overcrowded facility, and they wanted to help.
But when they arrived, they found that the lobby was closed. The few Border Patrol agents — Savage said there were between eight and 10 of them — moving in and out of a parking facility ignored them.
For a while, the group stood there dumbfounded about what to do next. Ultimately, they decided to pack up and head home. Savage said he wasn't completely surprised by the rejection; before he left, the group spotted a discarded plastic bag near the lobby door holding toothpaste and soap that had a note attached to it: "I heard y'all need soap + toothpaste for kids."
"A good friend of mine is an immigration attorney, and he warned us that we were going to get rejected," Savage said. "We were aware of that, but it's just the idea of doing something as opposed to passively allowing this to occur."
Border Patrol facilities are only supposed to hold detained migrants for a short period of time, until they are processed. But an influx of migrants along the southwest border has stretched facilities in places like Clint and McAllen beyond capacity, leading to what people who have visited them have called unsafe and unsanitary conditions.
A slew of other sympathetic people, advocacy groups and lawmakers on both sides of the political aisle have expressed a desire to lend a hand to the kids housed in the facilities. But after purchasing items like toys, soap, toothbrushes, diapers and medicine — especially as news reports circulate of facilities having drinking water that tastes like bleach and sick children without enough clothing — they've been met with a common message: No donations are being accepted.