Jetpacks

Emergency responders could have jetpacks by year's end

Emergency responders in New Zealand could soon be zipping around on personal jetpack; last month, Glenn Martin, an inventor based in New Zealand, successfully flew his jetpack up to a height of nearly 5,000 feet; Martin has been hard at work on the jetpack for the last thirty years and hopes to have his "jetski for the skies" commercially available within eighteen months; the jetpack is essentially two two-liter V4 engines strapped to a carbon fiber frame; the device is wingless and is controlled by two joysticks and can be flown with little pilot training; Martin says that the first people to use the device will be emergency responders conducting search and rescue missions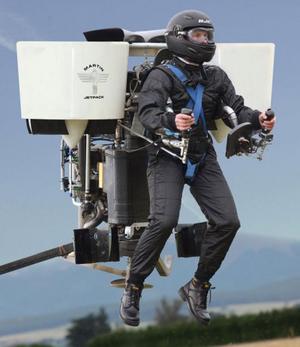 Kiwi first responders to be issued jetpacks for search operations // Source: gadgetmug.com
Emergency responders in New Zealand could soon be zipping around on personal jetpacks.
Last month, Glenn Martin, a New Zealand inventor, successfully flew his jetpack up to a height of nearly 5,000 feet. For the test flight, Martin controlled the device remotely and watched from a helicopter as a dummy was strapped into the device.
Martin has been hard at work on the jetpack for the last thirty years and hopes to have his "jetski for the skies" commercially available within eighteen months.
He said, "The first people using these in cities will be medical personnel doing emergency response."
"Then you'll see people putting camera mounts on them for traffic reporting and it will eventually evolve into people just flying for fun or going to work," he explained. The jetpack is essentially two two-liter V4 engines strapped to a carbon fiber frame. Together the dual engines are capable of pumping out 200 horsepower.
The wingless device is controlled by two joysticks and can be flown with little pilot training.
According to Martin, the physics behind the device are simple, "If you shoot enough air down fast enough, then you'll go up."
The jetpack weighs less than 250 pounds and carries a five gallon tank of gas that allows it to fly for about thirty minutes with a range of about thirty miles.
The personal flight device can run off regular gasoline, so users can fly into a gas station to refuel their jetpack.
Since debuting his invention at a U.S. airshow in 2008, Martin says he has received enormous interest from governments seeking to use it for a variety of purposes that range from border security to disaster response.
"We've been approached by I think five different militaries [and] about six different governments," he said. "People are looking at using this in border patrol around a lot of the sensitive borders in the world.
"We've got one large search and rescue organization that wants 500 for after earthquakes and tsunamis and those sorts of things, where the roads are beaten up and you're struggling to get helicopters down."
The pack is in its final stages of testing and Martin expects large commercial customers to be flying the jetpack by the end of the year.
He hopes to make the pack publicly available in 2012 for about $100,000, but his plan will likely run into legal trouble as current laws in the United States prohibit flights over populated areas.