The food we eat

FDA should adopt risk-based approach to food safety: report

Experts say that for food inspection in the United States to be more effective, FDA should implement a risk-based approach in which data and expertise are marshaled to pinpoint where along the production, distribution, and handling chains there is the greatest potential for contamination and other problems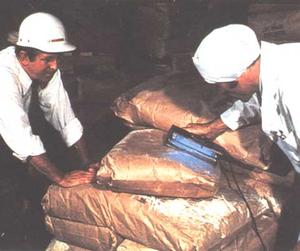 Food inspectors // Source: fao.org
The U.S. Food and Drug Administration's (FDA) abilities to discover potential threats to food safety and prevent outbreaks of food-borne illness are hampered by impediments to efficient use of its limited resources and a piecemeal approach to gathering and using information on risks, says a new report by the Institute of Medicine and National Research Council.
More effectively to tackle food safety problems, FDA should implement a risk-based approach in which data and expertise are marshaled to pinpoint where along the production, distribution, and handling chains there is the greatest potential for contamination and other problems, the report says. The agency would then be able to direct appropriate amounts of its resources and attention to those high-risk areas and increase the chances of catching problems before they turn into widespread outbreaks, said the committee that wrote the report.
The report offers FDA a blueprint for developing a risk-based model. It also outlines several organizational steps the agency should take to improve the efficiency of its many food safety activities, such as increasing coordination with state and other federal agencies that share responsibility for protecting the nation's food supply. In addition, the report says Congress should consider amending the Federal Food, Drug, and Cosmetic Act to explicitly provide the authority FDA needs to fulfill its food safety mission.
"As recent illnesses traced to produce underscore, foodborne diseases cause significant suffering, so it's imperative that our food safety system functions effectively at all levels," said committee chair Robert Wallace, professor, College of Public Health, University of Iowa, Iowa City. "FDA uses some risk assessment and management tactics, but the agency's approach is too often reactive and lacks a systematic focus on prevention. Our report's recommendations aim to help FDA achieve a comprehensive vision for proactively protecting against threats to the nation's food supply."
FDA is responsible for ensuring the safety of approximately 80 percent of the U.S. food supply, including seafood, dairy products, and fruits and vegetables. Although it is not the sole organization overseeing food safety — the U.S. Department of Agriculture handles meat, poultry, and egg products, and state and local agencies share in conducting food production facility inspections, surveillance, and investigations of outbreaks — recent outbreaks of food-borne illness led to a congressional request for a review of gaps in FDA's food safety system.
The agency has been criticized for not adequately monitoring and inspecting food suppliers and distributors and for not taking