In the trenches

Game-changing rifle arrives in Afghanistan

Published 29 November 2010

A new smart rifle can be programmed so that its 25-mm. ammunition does not explode on impact; instead, it can be set to detonate either in front of or behind a target, meaning it literally will go through a wall before it explodes and kills the enemy; the Army says that enemy soldier can run, but they can no longer hide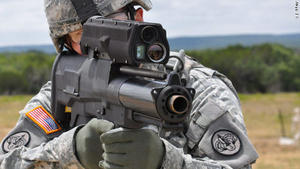 A future weapon is now deployed // Source: weaselzippers.us
A few months ago we wrote about a new, innovative, and very smart weapon the U.S. military was developing (see "Smart grenade launcher headed to Afghanistan," 19 October 2010 HSNW; and "U.S. Army's XM25 smart grenade launcher described as 'game changer,'" 18 May 2010 HSNW).
In the old days, the best way to stay alive in the face of incoming fire has been to take cover behind a wall. The new, game-changing rifle makes this tactic obsolete: an enemy soldier may run, but he can no longer hide.
Fox News offers an update, reporting that after years of development, the U.S. Army has unleashed a new weapon in Afghanistan — the XM25 Counter Defilade Target Engagement System, a high-tech rifle that can be programmed so that its 25-mm. ammunition does not necessarily explode on impact. Instead, it can be set to detonate either in front of or behind a target, meaning it literally will go through a wall before it explodes and kills the enemy.
It also has a range of roughly 2,300 feet — nearly the length of eight football fields — making it possible to fire at targets well past the range of the rifles and carbines that most soldiers carry today.
Lt. Col. Christopher Lehner, project manager for the semi-automatic, shoulder-fired weapon system for the U.S. Army's Program Executive Office Soldier, said that the XM25's capability alone is such a "game-changer" that it will lead to new ways of fighting on the battlefield, beginning this month in Afghanistan.
"With this weapon system, we take away cover from [enemy targets] forever," Lehner told FoxNews.com. "Tactics are going to have to be rewritten. The only thing we can see [enemies] being able to do is run away."
This would make it much easier for U.S. troops to put them in their sights, either with that same XM25 or another direct-fire weapon.
With this new weapon in the Army's arsenal, Lehner said, "We're much more effective, by many magnitudes, than current weapons at the squad level. We're able to shoot farther and more accurately, and our soldiers can stay behind sandbags, walls or rocks, which provides them protection from fire."
Lehner said the first XM25s were distributed to combat units in Afghanistan this month. The 12-pound, 29-inch system, which was designed by Minnesota's Alliant Techsystems, costs up to $35,000 per unit and, while highly sophisticated, is so easy to use that soldiers become proficient within minutes.
"That's