Law-enforcement technology

Hand-held detector sniffs out hidden grave sites

Hidden graves often hold evidence of crimes or atrocities; sniffing dogs are unreliable, and while forensic soil tests are accurate, taking samples from across a wide area and analyzing them just adds to the time it takes to locate a grave; researchers develop a simple hand-held gadget could now let them swiftly scan large areas of ground for signs of a grave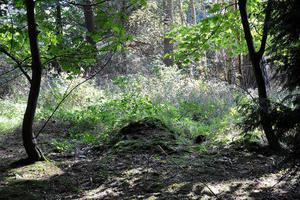 Finding a hidden grave used to involve dogs, search teams and days // Source: blogotariat.com
Finding a hidden grave quickly can be crucial to garnering the forensic evidence that nails a killer — but the sniffer dogs and soil tests used to find them can be unreliable or slow. The good news for detectives is that a simple hand-held gadget could now let them swiftly scan large areas of ground for signs of a grave.
Debate is raging over "whether sniffer dogs are smelling what we think they are smelling," says Thomas Bruno, a physicist at the National Institute of Standards and Technology (NIST) in Boulder, Colorado. In some cases, dogs thought to have been reacting to explosives had simply come across a common solvent that is pleasing to their canine noses, he told New Scientist's Paul marks.
While forensic soil tests are accurate, taking samples from across a wide area and analyzing them just adds to the time it takes to locate a grave.
Marks writes that Bruno and his colleague Tara Lovestead knew that when bacteria feed off buried bodies, nitrogenous organic compounds such as amines are released into the surrounding soil. This is what existing soil tests are designed to pick up. So the NIST team wondered whether they could create a detector sensitive enough to pick up such compounds in the air just above a grave.
They took a 0.3-millimeter-wide capillary tube and coated its inner surface with aluminum oxide, aka alumina. When the tube tip is placed in the air a centimeter or so above a suspected grave site, any amines present are sucked in and bind strongly to the alumina.
That binding has a dramatic impact on the ultraviolet light wavelengths the coating absorbs, so by placing a UV source on one side of the tube and a sensor on other, you have a simple detector. After a reading is taken, the tube is heated to flush the amine out - and it's ready to take another reading.
The team tested the sensor on dead rats buried in 25-centimeter-square plots. It correctly identified the eight plots that housed rat carcasses, with no false positives on empty plots (Forensic Science International, 23 June 2010).
"With our method, you don't have to touch the soil. You just sample the air and sniff for the amines," says Bruno. "It only takes 30 seconds to take a measurement."
This week he met engineers at a multinational instrument-maker. He hopes to have a prototype device ready by the end of the year. "Anything that can add to the armory of currently available techniques is welcome," says Gillian Leak, principal scientist at the UK's Forensic Science Service.
Ian Hanson, a forensic archaeologist at the University of Bournemouth, U.K., warns: "The challenge here will be calibrating this device to reliably distinguish the human body-decomposition signal from the background signal. Amines can come from rotting vegetation or dead animals, for instance. It won't be an easy task."
—Read more in Tara M. Lovesteada and Thomas J. Bruno, "Detecting gravesoil with headspace analysis with adsorption on short porous layer open tubular (PLOT) columns," Forensic Science International (23 June 2010) (doi:10.1016/j.forsciint.2010.05.024)