Disasters

Historic, desperate measures to control Mississippi River

The historic levels of water swelling the Mississippi River required the Army Corps of Engineers to take historic measures to prevent catastrophic flooding of Baton Rough and News Orleans: first, the Morganza control structure, located 186 miles upriver of New Orleans and completed in 1954 as part of the Army Corps of Engineers' broad flood-protection upgrades in the wake of the Great Flood of 1927, was opened for only the second time to allow water to flow out of the river and into the Atchafalaya basin, a designated flood relief area; the Corps says that Saturday marked the first time in history that all three floodways built by corps after 1927 flood — the Morganza Floodway, the Bonnet Carre Spillway, and the Birds Point floodway in Missouri — have been in operation at the same time; about 25,000 people and 11,000 structures are in harm's way, as up to 25 feet of flooding is expected in a 3,000 square-mile area of Louisiana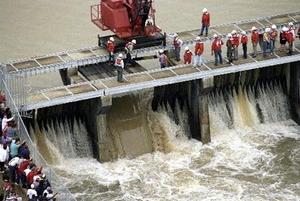 Opening the Bonnet Carre Spillway // Source: nola.com
This past weekend was a historic day for the Mississippi River control system:
The Morganza control structure, located 186 miles upriver of New Orleans and completed in 1954 as part of the Army Corps of Engineers' broad flood-protection upgrades in the wake of the Great Flood of 1927, was opened for only the second time to allow water to flow out of the river and into the Atchafalaya basin, a designated flood relief area. The only other time the spillway opened was in 1973 to relieve pressure on the Old River Control Structure, a critical barrier thirty-five miles upriver. The Old River Control Structure prevents the Mississippi from its natural tendency to shift to the Atchafalaya Basin, a steeper shortcut to the Gulf of Mexico. This shift in course, if allowed, would have dire economic consequences for the ports in New Orleans and Baton Rouge.
The Corps says that Saturday marked the first time in history that all three floodways built by corps after 1927 flood — the Morganza Floodway, the Bonnet Carre Spillway, and the Birds Point floodway in Missouri — have been in operation at the same time.
Nola.com reports that the historic opening of the Morganza Floodway was designed to minimize the risk of catastrophe in Baton Rouge and New Orleans.
The opening of the Morganza control structure allowed a gusher of about 10,000 cubic feet of water per second into the floodway. Nola.com quotes Corps officials to say that more of the 28-foot-wide bays will be opened in the coming days for the purpose of gradually increasing the flow rate to about 125,000 cubic feet per second.
Nola.com notes two more things:
The decision to open the spillway was triggered when the river's flow rate reached 1.5 million cubic feet per second and rising at Red River Landing. Those conditions occurred Friday afternoon.
About 25,000 people and 11,000 structures are in harm's way, as up to 25 feet of flooding is expected in a 3,000 square-mile area stretching from Melville to Morgan City.