Countering IEDs

Increasing counter-IED role for robots

Published 5 November 2010

U.S. and coalition military operating in Afghanistan have experienced about 10,500 roadside bomb incidents so far this year, up from 8,994 in 2009 and 2,677 in 2007; robots continue to play ever-more important combat roles in the air and on the ground in Afghanistan and Iraq, and their responsibilities will only continue to grow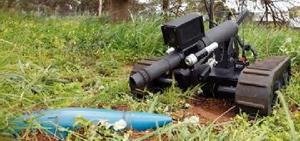 IED killer during training // Source: theage.com.au
Hardly a day seems to pass without a new report of a soldier or civilian being killed or maimed an improvised explosive device (IED) in Afghanistan or Iraq. Just such a weapon killed two coalition members on Monday in Iraq's volatile southern region, according to NATO. Meanwhile, data published 22 October by Wikileaks indicates that IEDs are the biggest killers of British and U.S. troops in Afghanistan, accounting for more than half of all fatalities.
Larry Greenemeier writes in Scientific American that to protect people from these weapons, the U.S. military increasingly relies on robotic bomb detection and disposal units (in addition to the scores of UAVs overhead with reconnaissance and strike capabilities), creating life-and-death combat relationships between man and machine that will only deepen and proliferate over time.
U.S.
and coalition military operating in Afghanistan have experienced about 10,500 roadside bomb incidents so far this year, up from 8,994 in 2009 and 2,677 in 2007, Army Lt. Gen. Michael Oates, director of the Joint Improvised Explosive Device Defeat Organization (JIEDDO), reported 21 October. A significant portion of these are IED-related incidents.
The success of such attacks ensures that they will continue for at least the short-term, which means the military is searching for new ways of addressing the problem. In Afghanistan U.S. soldiers conduct month-long Explosive Hazard Reduction courses to train Afghan soldiers about how IEDs work, the threats they pose and techniques for finding them. Coalition forces have spent about $2 billion since 2006 to train soldiers stationed worldwide about IEDs, according to Oates.
A lot of money is also being spent on anti-IED robots. Earlier this month the U.S. Army TACOM Contracting Center in Warren, Michigan, ordered $14 million worth of robot intelligence software and spare parts for its PackBot tactical mobile robots, made by iRobot in Bedford, Massachusetts. This was TACOM's twentieth such order for iRobot technology and part of the unit's larger $286-million "xBot" contract for purchasing bomb-detection robots.
There are more than 3,500 iRobot devices serving in the U.S. military as well as the armed forces of another twenty allied countries, says Joseph Dyer, iRobot's chief operating officer and a retired U.S. Navy vice admiral.