South Asia infrastructure

India tunnels under Himalayan peaks to keep up with China

In the past decade, as China has furiously built up its military and civilian infrastructure on its side of the Himalayan border, but the Rohtang Pass on the Indian side has stood as silent testimony to India's inability and unwillingness to master its far-flung and rugged outermost reaches; in June, India has began to change that by starting the ambitious project which will take five years and require boring five miles through the Pir Panjal range; several other tunnels, which would allow all-weather access to Ladakh, which abuts the Tibetan Plateau, are also in the works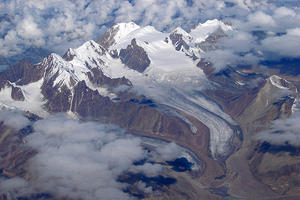 India seeks to build tunnels here in the Himalayas to supply troops guarding the border with China // Source: simonseeks.com
The name of this white-knuckle pass, one of the highest in the world, means "pile of corpses" in the Tibetan language. Every year a few dozen people die trying to cross these spiky Himalayan peaks. For six months the road is snowbound, putting at the mercy of the elements tens of thousands of Indian troops posted beyond it in this remote but strategically important region along India's long and disputed border with China.
Lydia Polgreen writes in the New York Times that in the past decade, as China has furiously built up its military and civilian infrastructure on its side of the border, the Rohtang Pass on the Indian side has stood as mute testimony to India's inability and unwillingness to master its far-flung and rugged outermost reaches.
Now, India is racing to match its rival for regional and global power, building and bolstering airstrips and army outposts, shoring up neglected roads and — finally, decades after it was first proposed — building a tunnel to bypass the deadly Rohtang Pass.
In June work started on the ambitious project, which will take five years and require boring five miles through the Pir Panjal range. Several other tunnels, which would allow all-weather access to Ladakh, which abuts the Tibetan Plateau, are also in the works.
"What India is belatedly seeking to do is to improve its defenses by upgrading its logistics," Brahma Chellaney, an analyst who tracks the India-China relationship at the Center for Policy Research in New Delhi, told Polgreen in an e-mail. "By building new railroads, airports and highways in Tibet, China is now in a position to rapidly move additional forces to the border to potentially strike at India at a time of its choosing."
As a result, he said, "The Sino-Indian border remains more unstable than the Pakistani-Indian frontier."
India and China are not exactrly enemies, but much of the 2,521-mile border they share is disputed or ill marked. The two countries fought a brief but bloody border war in 1962, and while these days they have, on the surface, a mostly cordial relationship, it is marked by tension over border disputes and the future of Tibet and its leader, the Dalai Lama, who lives in exile in India.
China's push to develop its infrastructure on its side of the border — including an all-weather railway to Tibet that includes the world's highest tunnel, at 16,000 feet — is viewed with considerable suspicion