Law enforcement technology

Indoor locator device for firefighter, first responders on the horizon

After several years of research and slow, halting progress, development of an indoor locator device to be worn by firefighters and other emergency response personnel could reach the production stage next year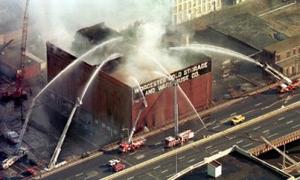 Location devices found six firefighters lost in this fire // Source: boston.com
After several years of research and slow, halting progress, development of an indoor locator device to be worn by firefighters and other emergency response personnel could reach the production stage next year, according to a DHS official who updated researchers on developments last week.
"When you started out on this, people told us we were out of our mind, that there was no solution," said Jalal Mapar, program manager at DHS Science and Technology Directorate (S&T), at the beginning of a conference and workshop held at Worcester Polytechnic Institute ((WPI) last week. "We're not there yet. It's a complex problem. … Our intent is to solve this once and for all."
The two-day workshop, "Precision Indoor Personnel Location and Tracking for Emergency Responders," had about sixty participants from public, private, and academic research organizations. The workshop discussed technology being developed and demonstrations of components used in tracking and monitoring a firefighter inside a building.
The Worcester Telegram & Gazette'sMartin Luttrell writes that research began at WPI after the December 1999 fire at the former Worcester Cold Storage and Warehouse Co. building that claimed the lives of six Worcester firefighters. The firefighters became lost in the windowless structure, and other firefighters were unable to find them. The challenge has been to design a device, small enough to be worn, that will emit signals to a receiver through concrete walls and in buildings with metal and wiring. The device would provide the firefighter's location in three dimensions, as well as the person's heart rate and respiration rate.
WPI researchers under engineering professor David Cyganski are also working on technology to be included in the device that would warn command staff monitoring the firefighters when the inside temperature threatens to cause a "flashover," the sudden combustion of the ceiling, walls and contents of a room. Once a flashover occurs, search and rescue becomes almost impossible, and those inside could be killed quickly.
Mapar told the conference that two companies, Honeywell ACS Labs and Argon ST, received contracts last year to develop what DHS calls Geospatial Location Accountability and Navigation System for Emergency Responders, or GLANSER, a device similar to what WPI first envisioned. Initial tests of the companies' prototypes are to take place in the next two months, he said.
"We're working really hard to get something out next year, in its initial capability," Mapar told the conference.
Later, he said progress was quickly made in how rapidly the computer components could operate, but getting several functions into a device that measures 2-by-4-by-6 inches, most of which is battery, is costly. "If you look at the components that have to be included in this system, the numbers add up to be a lot of money," he said. "It really is a combination of what components you have to put together and the business model you have to use to get it out to the people. Some large fire departments might be able to purchase these because they have the budgets to do that. But the smaller ones won't. So, maybe it means combining the technology with a cell phone network carrier, so you pay $30 to $50 a month per user, and that may be a way to get the cost down."
Cyganski said data from the development of the WPI fire flashover warning device, which was tested in a controlled fire at the state Fire Academy in Stow last month, will be reviewed before further testing to see if a technological partner can be found to make it work reliably in a variety of situations and meet government regulations.