Large dams linked to more extreme weather patterns
Published 23 December 2009
A new study looked at the magnitude of the biggest storms near 633 of the world's largest dams before and after construction; they found that in many places the level of precipitation in the most extreme rainfall events grew by an average of 4 percent per year after a dam was built, with the relationship especially strong in semi-arid regions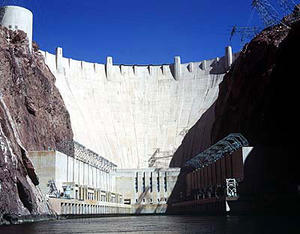 Hoover Dam Source: thomas.net
Dam-builders should be careful when they create a reservoir because bigger storms and flooding could be on the way. This is the warning from an analysis of more than 600 dams, many of which have brought more extreme rainfall.
New Scientist reports that the idea that large bodies of water might influence rainfall is not new, but until now, no one had studied the effect of large dams and their reservoirs. Faisal Hossain of Tennessee Technological University in Cookeville and colleagues looked at the magnitude of the biggest storms near 633 of the world's largest dams before and after construction. They found that in many places the level of precipitation in the most extreme rainfall events grew by an average of 4 percent per year after a dam was built, with the relationship especially strong in semi-arid regions. There was also an increase in the frequency of rainy days (read more in Natural Hazards Review, DOI: 10.1061/(asce)nh.1527-6996.0000013).
The paper is the first to show a clear relationship between dams and heavy rainfall, says Johannes Feddema at the University of Kansas in Lawrence. Though the results were not consistent all over the world, that is to be expected, he says, since regional weather patterns and numerous other factors come into play. To explore these effects, Hossain plans to use computer models to simulate dams in different scenarios. "Hopefully it will make the picture less blurry," he says.