Largest Moscow airport testing of facial biometric system
Published 15 February 2011
Moscow's busy Sheremetyevo International Airport recently concluded initial tests of a new facial biometric security system; the system, BROADWAY 3D, relies on a three dimensional surface scan of an individual's face; the system is highly automated and minimizes the need for human supervision; during its one month of testing, 3,500 people were automatically screened with 100 percent accuracy; BROADWAY 3D is manufactured by Artec Ventures; Sheremetyevo International is Moscow's largest airport and has seen rapid increases in passenger traffic; last year more than nineteen million people traveled through the airport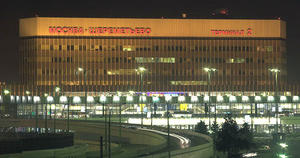 Moscow's Sheremetyevo Airport // Source: grcade.com
Moscow's busy Sheremetyevo International Airport recently concluded initial tests of a new facial biometric security system.
Sheremetyevo International is Moscow's largest airport and has seen rapid increases in passenger traffic, with a 31 percent increase in 2010 alone. Last year more than nineteen million people traveled through the airport. The system, BROADWAY 3D, relies on a three dimensional surface scan of an individual's face and is highly automated, minimizing the need for human operators.
BROADWAY 3D uses a special camera to quickly record an individual's facial data and store the information. The individual in need of verification enters a turnstile where the camera projects a light pattern at a parallel angle to the face. Data is then acquired by measuring 40,000 points to mathematically map the individual's face with sub-millimeter precision to determine if there is a match in the database.
Recognition is not affected by glasses, hairstyles, or beards and is non-intrusive as it does not require any physical contact with the device.
The system functions as an additional layer of security for existing key cards, where the face must match the card presented.
Tests showed that the system worked efficiently and accurately. Registration took no more than two seconds to record and store, while individuals were recognized in less than one second. The system is capable of handling up to thirty people per minute.
During its one month of testing, 3,500 people were automatically screened with 100 percent accuracy.
Tests also showed that the system was capable of filtering out individuals who had forged access cards or attempted to deceive the scanner.
BROADWAY 3D is manufactured by Artec Ventures which is headquartered in Palo Alto, California but conducts research and development out of its Moscow branch.
Artec Ventures founder Art Yukhin was a member of the team of researchers that first invented 3D facial recognition technology in 1999.
Their work eventually became adopted as the worldwide industrial standard in 2006 and key members of his original team have since joined Artec.
Sheremetyevo International is still testing BROADWAY 3D and upon completion will determine how and where it will use the system.