Trucking

Monitoring Mexican trucks operating in the U.S.

The U.S. plan to equip Mexican trucks with electronic recorders for driver logs would be a limited, temporary program undertaken because it is the only way the Federal Motor Carrier Safety Administration (FCMSA) can ensure that the Mexican trucks will be monitored, the U.S. government says; under (NAFTA), the United States cannot require Mexican carriers to do anything that U.S. carriers are not required to do, but the government still must provide a way to monitor Mexican carriers for compliance with both the hours of service rules and the cabotage rules that restrict freight hauling between points in the United States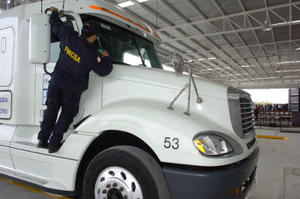 Mexican trucks will receive electronic monitors // Source: mexicotrucker.com
The U.S. plan to equip Mexican trucks with electronic recorders for driver logs would be a limited, temporary program undertaken because it is the only way the Federal Motor Carrier Safety Administration (FCMSA) can ensure that the Mexican trucks will be monitored, said FMCSA administrator Anne Ferro.
Ferro, who spoke the other day to trucking executives gathered for the annual meeting of the Truckload Carriers Association, acknowledged that the subject has been controversial among carriers who do not like the idea of the United States spending taxpayer money on equipment for Mexican trucks.
Truckinginfo reports that she explained that under the North American Free Trade Agreement (NAFTA), the United States cannot require Mexican carriers to do anything that U.S. carriers are not required to do, but the agency still must provide a way to monitor those carriers for compliance with both the hours of service rules and the cabotage rules that restrict freight hauling between points in the United States.
"We can't require them to purchase EOBRs because we don't require (U.S. carriers) to do it yet, so we propose to pay for those for a limited duration," she said. The duration would be until the pilot program is over — probably three years — or until the agency's proposed near-universal EOBR mandate takes effect, she said.
The measures taken by FCMSA are part of larger agreement between the United States and Mexico, announced by President Barack Obama and President Calderon of Mexico. The program announced by the two leaders envisions a reciprocal, phased-in program that will start with Mexico reducing its tariffs by half when the final agreement is signed. The rest of the tariffs would be suspended when the first Mexican carrier is granted operating authority.
Trucks carrying hazmats and buses are not included in the vehicle inspection and tracking part of the program.