More confusion about U.K. biometric ID scheme
Published 22 December 2009
The U.K. government's controversial ID scheme called for making such an ID mandatory, but making the biometric IDs compulsory ran into problems owing to high costs, lack of public appetite, and concerns about the creation of a database state; the government has just announced that young people of between 16 to 24-year-old in London will be allowed to apply for voluntary ID cards, which will cost them £30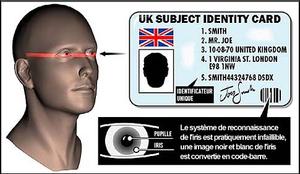 More confusion about U.K. biometric ID scheme
Further confusion has broken out over the U.K. government's controversial ID scheme, after it emerged that the Home Office was announcing an extension to the scheme, days after Chancellor Alistair Darling questioned the future of the project.
Home Secretary Alan Johnson is set to announce that young people of between 16 to 24-year-old in London will be allowed to apply for voluntary ID cards, which will cost them £30, the Daily Mailreports. John Leyden writes that it is hard to believe there will be many takers, especially in the aftermath of the Christmas gift-buying period.
The planned expansion comes days after the chancellor suggested funding for ID cards may be cut, as the United Kingdom tightens its belt to cope with reduced tax revenues that have accompanied the global economic downturn.
Leyden notes that a voluntary launch of ID cards in Merseyside descended into Whitehall farce after junior Home Office minister Meg Hillier forgot to bring her own card along to the launch. New Labor is attempting to promote the voluntary take-up of ID cards after plans to make biometric cards compulsory floundered on high costs, lack of public appetite, and concerns about the creation of a database state. The voluntary scheme was first rolled out in Manchester.
Opposition Conservatives have pledged to ditch ID cards if elected following a general election that must take place next year.