Infrastructure

New concrete could increase life of bridges by forty years

Researchers have developed a new type of concrete that could increase the lifespan of bridges by more than forty years compared to normal strength concrete; the more durable type of concrete minimizes shrinkage, a problem typically found in high-strength concrete; the new concrete is also less likely to crack, which reduces the ability for corrosive materials like chlorides from de-icing salts to seep into the bridge's internal structure; the new concrete uses a lightweight porous type of sand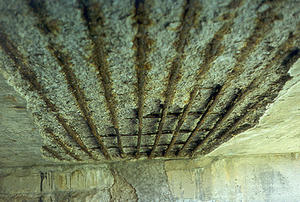 Deterioration of underside of concrete bridge slab // Source: oh.us
Canadian researchers have developed a new type of concrete that could increase the lifespan of bridges by more than forty years compared to normal strength concrete.
Dr. Daniel Cusson, a senior researcher at the National Research Council for Research in Construction, has invented a more durable type of concrete that is designed to minimize shrinkage, a problem typically found in high-strength concrete.
In addition, the new concrete is also less likely to crack which reduces the ability for corrosive materials like chlorides from de-icing salts to seep into the bridge's internal structure. As a result, chlorides take much longer to reach a bridge's steel reinforcement, thereby extending the life of the structure by minimizing corrosion.
The key to Cusson's concrete is that it uses a lightweight porous type of sand. The more porous sand, which replaces about a quarter of the normal sand used in the mixing process, is capable of holding as much as 20 percent of its own weight in water, allowing the concrete to cure uniformly from the inside and preventing self-desiccation.
These breakthroughs can improve the lifespan of bridge decks by as much as twenty years compared to high-strength concrete.
The new concrete only costs 5 percent more than standard high-strength concrete, and Dr. Cusson believes that it will generate long term cost savings by reducing annual bridge maintenance costs.
The National Research Council is currently testing the concrete at its outdoor slab testing facility, where they are subjecting it to the harsh weather conditions that most Canadian bridges face including exposure to de-icing salts, freeze and thaw cycles, wet and dry cycles, and solar radiation.
Engineers are considering using the new concrete for the construction of the Canal Bridge, which is part of the North Channel Bridge replacement project in Cornwall.