Explosives detection

New explosives detection technologies show promise

An adversary who is willing to die trying to carry out a mission is one of the reasons why more conventional security organizations find it so difficult to pursue their protection mission effectively in an asymmetrical war — the kind of war terrorists engage in; new explosive detection technologies may be of help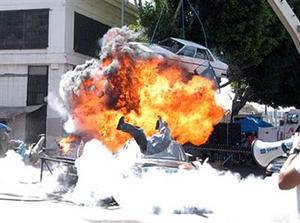 The suicide bomber is difficult to stop, does enourmous damage // Source: topnews.in
An adversary who is willing to die trying to carry out a mission is one of the reasons why more conventional security organizations find it so difficult to pursue their protection mission effectively in an asymmetrical war — the kind of war terrorists engage in.
The attempt by Umar Farouk Abdulmutallab to bring down a plane with 289 passengers failed owing to its lack of sophistication and to the efforts of passengers and crew, but the threat is real and the next attempt may not be as amateurish (and see the of Straw's discussion). Joseph Straw writes in Security Management that the incident highlights the importance of explosives detection technology that could help intercept the next attempt. Security Management discusses the evolving capabilities of such technologies, and the remaining limitations and concerns about privacy implications.
Straw notes that the threat of explosives, in particular those that might be directed at commercial aviation, has spurred research into new detection technologies as well as funding of efforts that could help speed commercialization to bring the results to the marketplace. Among the most promising works in progress are the following.
Liquids. Responding to the demand for quick detection of fluid-based explosives in common consumer liquid and gel containers, efforts at Forschungszentrum Jülich GmbH, an interdisciplinary research center in Jülich, Germany, have produced technologies that promise detection of liquid-borne threats through methods that are both rapid and uncomplicated for the end user, developers say. The first technology has a liquid container placed against the detection device, which emits radiation in the radio and microwave ranges. The device senses the test substance's reaction to determine its conductivity and its dielectric constant, meaning the capability of the substance to hold an electric charge. The test takes can detect triacetone triperoxide (TATP), other peroxide-based explosives, as well as alcohol. The technology's primary limitation: when it operates in the microwave range, it cannot test substances in metal containers.
Vapor trace. The best chemical detector in the world is a dog's nose. Ross Harper, a senior staff scientist with ICx Technologies, lists the various factors that make dogs such effective sensors, whether they are looking for table scraps or explosives: The surface of a dog's olfactory membrane is up to four times larger than a human's, and roughly 40 percent more of a dog's brain is devoted to detecting scent. As a result, dogs can detect substances even if they are