Law enforcement technology

Ogden, Utah police first-in-nation to use surveillance blimp

Published 23 September 2011

A patrol car fitted with all of the police extras cost $40,000; a surveillance blimp will cost well below that — possibly as low as $15,000; after that, it is $100 a week to keep it filled with helium and charge its electric batteries; the police in Ogden, Utah, decides this is a good deal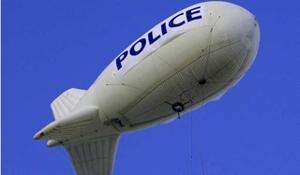 Ogden, Utah adds its police to the list of those using blimps // Source: alea.org
The police chief in Ogden, Utah, said the city could launch a surveillance blimp by Christmas as part of the city's crime-fighting efforts.
The 54-foot-long craft will be equipped multiple cameras and operated by pilots via remote control. It would run for five to seven hours at a time at an altitude of around 400 feet.
"Nobody else in the nation is trying to do this, so the FAA has no regulations for it," said Police Chief Jon Greiner. The Standard-Examiner reports that the FAA recently approved the first step of the blimp proposal, a 25-page administrative application — but that this is only the first of five steps before the police would be allowed to use the blimp.
FAA officials will visit Ogden at some point to view the blimp in action.
Chief Griener says that that a patrol car fitted with all of the police extras cost $40,000, but the blimp will cost well below that — possibly as low as $15,000. After that, it is $100 a week to keep it filled with helium and charge its electric batteries, one for the propeller and one for the cameras.
The blimp can follow a preprogrammed route, or be instructed to follow a single individual or vehicle.