Disasters

Oregon declares state of emergency to repair damaged ports

The 11 March tsunami born of Japan's 8.9 magnitude quake battered U.S. coasts and ports from Hawaii and the Pacific Northwest to southern California; the governor's office in Hawaii expects damages to run about $10 million with estimates heading toward $50 million in California; one county in Oregon is reporting $25 million worth of destruction in one of three damaged ports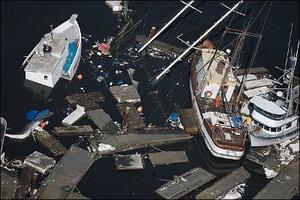 Tunami damage reached the U.S. west coast // Source: politicaldog101.com
The 11 March tsunami born of Japan's 8.9 magnitude quake battered U.S. coasts and ports from Hawaii and the Pacific Northwest to southern California.
The governor's office in Hawaii expects damages to run about $10 million with estimates heading toward $50 million in California. One county in Oregon is reporting $25 million worth of destruction in one of three damaged ports.
Normally calm waters have been described by witnesses to have ripped up docks, broken mooring lines, sank boats, and hurled large vessels.
The hardest hit county in Oregon was Curry County where waves ripped apart docks and sank boats in the Port of Brookings. In a special meeting on Sunday the county declared a state of emergency in all three of its ports, Brookings, Gold Beach, and Port Orford, clearing the way for state and federal funding. It reported a preliminary estimate of $25 million worth of damage in the busy recreational boating port of Brookings alone.
"It is largely an infrastructure problem, getting those docks back in shape," says Oregon Gov. John Kitzhaber. "An emergency declaration gets the wheels going with FEMA."
In California, Lori Dengler, a geology professor and director of the Humboldt Earthquake Education Center at Humboldt State University, says the damage estimates also are preliminary and are likely to rise.
In an email, she said that based on the preliminary reports form harbor districts damage to Brookings will be $25 million; Crescent City, $35 million; Santa Cruz ,$17 million; Fort Bragg, $4 million.
"I know there's damage in Morro Bay, but I don't have a dollar estimate," she wrote.
In Crescent City, Harbormaster Richard Young says that cleanup in the heavily damaged inner boat basin harbor has been delayed due to stormy weather, but crews from the city public works department and state Dept. of Fish and Game, the U.S. Coast Guard and the state Emergency Management Agency are starting what could be up to three weeks of cleanup.
Young says a containment boom has been erected and crews are shifting vessels to get access to 14 sunken boats. He adds that at least 47 boats have some damage. "But the good news is we have a game plan for replacing the docks," he says.
After a 2006 tsunami damaged much of the harbor, the city began planning a dock replacement and upgrade to a stronger, more resilient system.
The design now is "just about complete," Young says. Two California engineering firms have been contracted—Ben C. Gerwick, Oakland, and Stover Engineering, Crescent City. "The thing is, if we would have had this new design operational during Friday's tsunami, we would have had no damage," he says.
Crescent City has seen more than 30 tsunamis in the past 80 years, including one in 1964 from an Alaska quake that surged through the town, damaging most of its buildings. Offshore topography reinforces tsunami events with the meeting of three plates at the Mendocino Escarpment.
Santa Cruz Harbor, where the harbor master reports $17 million in losses, 17 vessels sunk, and 50 vessels sustained damaged.