Piracy

Pirates winning war off Somali coast

Published 30 December 2010

The hugely expensive effort against the Somali pirates — a fleet of 40 warships from 30 countries is patrolling the waters near Somalia — has failed to slow down the rate of piracy; Somali attacks had soared dramatically in the past three years — from 40 attacks in 2007 to a reported 218 attacks last year; the Somali buccaneers are roaming over a much bigger territory and causing greater damage; the average ransom payment to the Somalis has doubled to $5 million; they are holding their hostages for up to 120 days — twice as long as in the past; they even used a hijacked freighter to attack a naval warship that was escorting supplies for African peacekeepers; the increasingly brazen pirates are currently holding 26 vessels and 609 hostages off the coast of Somalia; there is growing evidence that Somalia's Islamic militants, including the feared al-Shabab radical group, are beginning to use piracy to raise money for their relentless rebellion against Somalia's government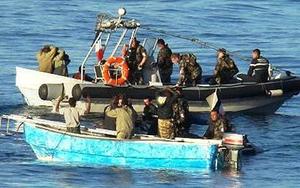 Somali pirates arrested off the Somalia coast // Source: telegraph.co.uk
It has been another lucrative week for the barefoot buccaneers of Somalia. First they collected a $5.5-million ransom payment for a German-owned chemical tanker. Then, a day later, they hijacked another European cargo vessel, adding its eight crew members to their growing hoard of hostages.
This latest haul of ocean booty is fresh evidence that the world's navies are facing failure in their massive campaign to defeat the Somali pirates. Despite years of efforts by the naval forces of Canada and dozens of other countries, the pirates are more dangerous than ever.
The Globe and Mail reports that a growing number of security experts are concluding that the naval campaign just is not working. At last count, the increasingly brazen pirates were holding 26 vessels and 609 hostages off the coast of Somalia, according to a European Union anti-piracy force.
The hugely expensive effort against the pirates, including six naval ships from Canada alone in the past few years, has failed to slow down the rate of piracy. The number of hijackings by Somali pirates has steadily increased in recent years, with the Somalis accounting for 35 of the world's 39 ships hijacked in the first nine months of this year.
Moreover, the Somali buccaneers are roaming over a much bigger territory and causing greater damage. The average ransom payment to the Somalis has doubled to $5 million. They are holding their hostages for up to 120 days — twice as long as in the past. They even used a hijacked freighter to attack a naval warship that was escorting supplies for African peacekeepers.
In an effort to crush the pirates, a fleet of 40 warships from 30 countries is patrolling the waters near Somalia. The anti-piracy flotilla is "the largest naval armada the world has seen in recent times," says Deborah Akoth Osiro, a researcher at the Nairobi office of the Institute for Security Studies.
"Yet, rather than contain the problem, the warships have driven Somali pirates further into the Indian Ocean," she said in the latest issue of the institute's journal. "There have been numerous attempts to combat piracy off the coast of Somalia, yet it is escalating."
Osiro estimates that there are 1,000 to 1,500 Somali pirates operating in the seas today, roaming as far as 2,000 kilometers from their base in Somalia. They have launched attacks as far south as the Mozambican channel, as far north as the Red Sea, and as far