Surveillance

Plan for cameras and mics in U.K. cabs draws sharp criticism

Published 16 November 2011

Privacy advocates in Oxford, Britain are up in arms over plans to install security cameras and audio recording cameras in every taxi; the city council recently passed a plan that would require every taxi driver in town to equip their cabs with the £460 devices by 2015 or have their license revoked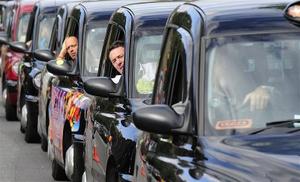 U.K. taxi drivers to install interior surveillance devices // Source: vosizneias.com
Privacy advocates in Oxford, Britain are up in arms over plans to install security cameras and audio recording cameras in every taxi.
The city council recently passed a plan that would require every taxi driver in town to equip their cabs with the £460 devices by 2015 or have their license revoked.
In response, privacy advocates have rallied against the plan calling it another step in the growing surveillance culture of Britain.
"This is a staggering invasion of privacy being done with no evidence, no consultation and a total disregard for civil liberties," argued Nick Pickles, the director of Big Brother Watch, a civil liberties and privacy defense group in the United Kingdom. "To my knowledge this is the first time a council has brought in audio recording equipment like this in taxis."
James Welch, the legal directory of Liberty, a civil liberties campaign organization, echoed Pickles's sentiments adding, "Local Authorities have fallen foul of public anger and the law in relation to CCTV before - we urge anybody concerned about the legal position to get in touch with Liberty."
The city council maintains that the recording equipment will help protect drivers and passengers in addition to resolving disputes over fares.
"The council has an overall responsibility to promote the safety of the travelling public. The law allows the council to impose any conditions on hackney carriage and private hire licenses that it considers reasonably necessary," a spokeswoman for the Oxford City Council said.
The audio and video devices would begin recording as soon as the car is started and remain on until thirty minutes after the engine is turned off. The recorded data would only be accessible to the police and council officials.
Alan Woodward, the secretary of the City of Oxford Licensed Taxi Cab Association, supported the plan stating that the recording devices would make cab drivers feel safer.
"Cab drivers have been beat unconscious, we had cabs smashed up, we have had complaints against drivers," he said. "Surely they would feel safer if they knew everything in the car was being recorded?"
Under British law, audio recording devices can only be used in limited circumstances, and when it is, those being recorded must be made aware that a device is on.
"CCTV must not be used to record conversations between members of the public as this is highly intrusive and unlikely to be justified," explained a spokesperson from the Information Commissioner's Office (ICO). "A system without this facility must be chosen if possible. If a system comes equipped with a sound recording facility then you should turn this off or disable it in some other way."
The spokesman added that audio could only be used as a "proportionate and reasonable response to tackling and preventing crime and ensuring public safety."
The Oxford City Council said, "Signage will be placed on the outside of the vehicles to inform the public that CCTV and audio will be recording in the vehicle so they are aware before they step into the vehicle."
ICO is currently investigating the city's plans following complaints made by Big Brother Watch.