Law-enforcement technology

Portable biometric system for police officers

Police now have a new low-cost, portable biometric tool in their arsenal to quickly and accurately identify a suspect: an Apple iPhone; using MORIS (Mobile Offender Recognition and Information System), an app developed by BI2 Technologies, police officers can now use an Apple iPhone to scan a suspect's fingerprint or snap a photo of their face to scan their iris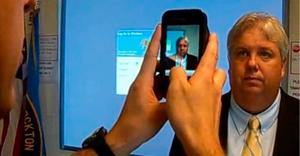 MORIS and the iPhone a highly effective ID pairing // Source: gev.com
Police now have a new low-cost, portable biometric tool in their arsenal to quickly and accurately identify a suspect: an Apple iPhone.
Using MORIS (Mobile Offender Recognition and Information System), an app developed by BI2 Technologies, police officers can now use an Apple iPhone to scan a suspect's fingerprint or snap a photo of their face to scan their iris. The app then automatically searches through multiple databases to see if there are any matches.
To scan a suspect's fingerprints, the app comes with a portable scanner that plugs into the back of the iPhone, and to scan a suspect's iris the app relies on the phone's camera which automatically snaps a picture when it senses that it is five to six inches away from an individual's iris. The software then identifies 235 distinctive features in each iris to search for potential matches. In addition, the software has facial recognition technology that police officers can use to search for suspects based on photographs.
The device was designed to aid police officers identify individuals who may not have ID or may be using fake credentials. Law enforcement officials can now get results in real-time rather than having to call in license plate numbers or rely solely on ID cards.
So far the device's fingerprint technology has performed poorly in tests conducted by police officers in Brockton, Massachusetts, but its iris scanner has proven highly effective. In a U.K. lab test, the scanner made over two million positive identifications without a single false match.