Iran's bomb

Russia cancels S-300 delivery to Iran

Published 23 September 2010

The Russia-made S-300 is the most sophisticated air defense system in the world, and Iran signed a contract to buy them in order to protect its nuclear weapons facilities; Russia has now decided to abrogate the contract — meaning that Iran's nuclear facilities remain exceedingly vulnerable to destruction from the air, and that the option of attacking these facilities is less daunting than would have been the case otherwise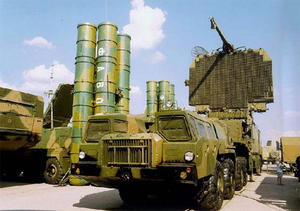 Russian S-300 Air Defense System // Source: defensetech.org
Good news for the cause of nuclear weapons nonproliferation: Russia will not deliver S-300 air defense missiles to Iran as planned because such transfers are prohibited under UN sanctions, the chief of the Russian general staff said Wednesday.
The S-300 is regarded as one of the most potent anti-aircraft missile systems currently fielded. It can shoot down both planes and cruise missiles. Its radars have the ability to simultaneously track up to 100 targets while engaging up to 12. S-300 deployment time is five minutes, and the S-300 missiles are sealed rounds and require no maintenance over their lifetime
Iran wanted to buy the S-300 in order to protect its nuclear weapons facilities. The deployment of the system would not have made it impossible to destroy these facilities in a military strike, but would have made such a strike much more costly to the attacking state.
Russia's decision means that Iran's nuclear facilities remain exceedingly vulnerable to destruction from the air – and that the option of attacking these facilities is less daunting than would have been the case otherwise.
"The decision has been made not to deliver S-300s to Iran," General Nikolai Makarov told journalists at an aircraft equipment production plant in the Moscow Region's town of Ramenskoye. "They are of course covered by the sanctions," he said, adding: "The leadership decided to suspend the delivery process. We are carrying this decision out."
Answering the question whether a relevant contract with Iran will be cancelled, Makarov said "we will see — it will depend on Iran's behavior."
RIA Novosty reports that in late August, Russian defense minister Anatoly Serdyukov said a decision on the delivery of S-300 missiles to Iran had not yet been taken.
Russia signed a contract on delivery to Iran of S-300 systems to equip at least five battalions in December 2005. The contract's implementation had so far been delayed as experts considered whether the missiles fall under the sanctions imposed on Iran by the UN Security Council in June.
The sanctions include a ban on supplies on conventional arms to the Islamic Republic. According to the document, "states are prohibited from selling or in any way transferring to Iran eight broad categories of heavy weapons (battle tanks, armored combat vehicles, large caliber artillery systems, combat aircraft, attack helicopters, warships, missiles or missile systems)."
The S-300 air defense systems, though, are not included in the UN Register of Conventional Arms.