Infrastructure

Sandy exposes weaknesses of antiquated sewage systems in N.Y., N.J.

Published 13 December 2012

Hurricane Sandy destroyed homes, apartments, and entire communities, and it also exposed the outdated sewage systems in New York and New Jersey; since Hurricane Sandy, millions of gallons of raw sewage have infiltrated waterways in both states, and it could take several years and billions of dollars to fix the systems; New York governor Andrew Cuomo estimated that it will cost about $1.1 billion to repair treatment plants; officials in the field say that much more will have to be done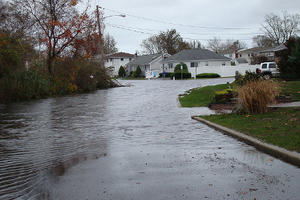 Raw sewage overflow flooded much of New York and New Jersey coastal areas // Source: sunysb.edu
Hurricane Sandy destroyed homes, apartments, and entire communities, and it also exposed the outdated sewage systems in New York and New Jersey.
Since Hurricane Sandy, millions of gallons of raw sewage have infiltrated waterways in both states, and it could take several years and billions of dollars to fix the systems. New York governor Andrew Cuomo estimated that it will cost about $1.1 billion to repair treatment plants. Officials in the field say that much more will have to be done.
According to officials, motors and electrical equipment must be raised above new flood levels and circuitry must be made waterproof. Also, dams and levees will need to be installed at some treatment plants in order to keep rising waters levels from damaging important equipment.
The New York Times quotes experts to say if these improvements are not made, it could leave millions vulnerable to public health and environmental hazards in future storms.
More than six sewage plants in New York were shut down and others were significantly damaged by storm surges that destroyed motors and caused shortages in electrical equipment.
"You're looking at significant expenditures of money to make the plants more secure," John Cameron, an engineer who specializes in wastewater-treatment facilities told the New York Times. "There is no Band-Aid for this," Cameron added. "This is the new normal."
Plants normally treat incoming sewage by removing solid waste, toxic substances, and kill bacteria before it is discharged into the ocean or a bay, but when the plants are not working, the sewage goes out into the ocean in the same condition it entered the plant in.
"This is the largest sewage release in the history of Long Island," Adrienne Esposito, executive director of Citizens Campaign for the Environment, an advocacy group told theTimes. "This brings to a new level the public health threat and the duration for the contamination, which will have a serious adverse impact on our beaches and our bays."
Workers at the Passaic Valley Sewerage Commissionplant were forced to evacuate the plant as floodwaters pushed their way in and wastewater flowed through the plant.
According to Larry Ragonese of the New Jersey Environmental Protection Department, the Middlesex County Utility Authorityplant in Sayreville, New Jersey released more than seventy million gallons of raw sewage into Raritan Bay everyday for almost a week before power was restored to the plant.
Officials said that drinking water was not contaminated as they run through separate systems.
Bay