Border security

Senate subcommittee approves about $15 billion to bolster border activity

Measure allocates $3.57 billion for 20,370 border patrol agents, with 17,000 based on the U.S. Southwest border, more than double the agents in 2004; about $20 million would go toward counter-drug initiatives for southbound operations lanes, personnel, and equipment to stop the outbound flow of weapons and currency used in the drug trade; $20.5 million for one additional unmanned aircraft system and support equipment; the bill include $9 billion for the Coast Guard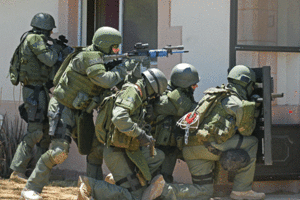 Training the Special Response Unit, which draws from agents already firearms trained and displaying a mastery of Spanish // Source: tactical-life.com
The Senate Appropriations Subcommittee on Homeland Security approved a fiscal 2011 $43.79 billion measure on Wednesday, a two percent increase above 2010 levels.
The measure includes $9.92 billion for Customs and Border Protection (CBP), $107.5 million above the president's request and $210 million below current levels.
That funding includes:
$3.57 billion for 20,370 border patrol agents, with 17,000 based on the

U.S.

Southwest border, more than double the agents in 2004
About $20 million would go toward counter-drug initiatives for southbound operations lanes, personnel, and equipment to stop the outbound flow of weapons and currency used in the drug trade
$25.9 million for new officers, pilots, vessel operators, and staff
and $20.5 million for one additional unmanned aircraft system and support equipment.
The Hill's Vicki Needham writes that Republicans, Democrats, and the Obama administration have proposed additional funding and agents along the nation's southern border, as violence has increased.
On top of that funding, Immigration and Customs Enforcement (
ICE
) is slated for $5.55 billion, $27.4 million above the president's request and $114.2 million above current levels.
Funding includes $30 million for ICE to combat international trade in illicit drugs, weapons smuggling, human trafficking, and crimes associated with violence along the Southwestern border.
The measure include $9 billion for the Coast Guard, including $254.5 million for overseas contingency operations. The Coast Guard also would get $6.971 billion for operating expenses, $165.3 million above fiscal 2010, rejecting the Obama administration's proposal to reduce Coast Guard billets by 1,112 and decommission five ships when only two new vessels are available to replace them.
The bill restores $40.8 million and 876 military billets to maintain key assets and activities proposed for elimination in the president's budget request, including two high endurance cutters, five Coast Guard Maritime safety and security teams in New York/New Jersey.
The Transportation Security Administration (TSA) is slated for $5.67 billion, $414.8 million above last year's request, $355 million for in-line explosives detection systems at airports for checked baggage. An additional $250 million is provided for this activity through mandatory fees.
The bill includes $368.4 million for aviation regulation and enforcement, including $38.8 million to increase TSA's international presence at high risk locations around the world. Also, $950 million for Federal Air Marshals, including a $90 million increase above FY 2010 to increase coverage on international flights in response to the December 25, 2009, failed terrorist attack on Northwest Flight 253.
Under the bill, the Federal Emergency Management Agency (FEMA) would receive $7.33 billion, $217 million above the president's request and $36 million above fiscal 2010. Funding includes $4.2 billion for homeland security grants, $420 million for firefighter hiring grants, $390 million for firefighter equipment grants and $350 million for rail, transit and bus security, a $38 million increase over last year's levels.