China syndrome

Senator Schumer targets fake IDs from China

Fake IDs have long been a problem for law enforcement agencies, but the recent discovery of counterfeit IDs from China that appear nearly identical to the real thing have lawmakers particularly concerned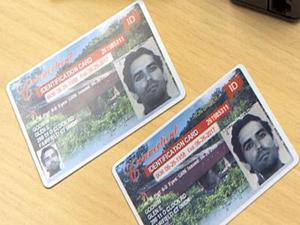 Chinese fake IDs are virtually impossible to detect // Source: socialmunch.com
Fake IDs have long been a problem for law enforcement agencies, but the recent discovery of counterfeit IDs from China that appear nearly identical to the real thing have lawmakers particularly concerned.
The fake IDS have all the holograms, stickers, watermarks, and magnetic strips that the real ones do making them very difficult to detect.
"These highly sophisticated fake IDs are a new phenomenon that have appeared over the last few months and are quickly becoming prolific around the country," said Senator Chuck Schumer (D – New York). In an effort to clamp down on these IDs from China, Senator Schumer is calling on wire-transfer companies to block payments to Chinese suppliers of these fake IDs.
Last week, Schumer sent a letter to PayPal, The Western Union Co., and MoneyGram International requesting that they work with DHS officials to block payments to particular online retailers who sell these fake IDs.
"We need to strangle their source of funding and put them out of business," Schumer said.
The IDs range from $100 to $300 and are being purchased online via wire transfers before they are smuggled into the country. Recently airport authorities at Chicago O'Hare International interdicted more than 1,700 fake Chinese drivers' licenses from states like Ohio, Florida, New Jersey that were headed for Chicago's suburbs.
The new IDs are so accurate that the only way they can be distinguished from the original is with sophisticated scanners that can read the information from the license's magnetic strip.
Most retail establishments lack such sophisticated equipment, and the fakes appear as genuine on most scanners.
"We have a machine that tells you if they're valid or not, but I've heard that they're still coming up on those machines as valid," said Anthony Geraci, the owner of Kasey's American Grill in Rockville Centre, New York where Senator Schumer held a press conference on the topic. "It's like a real form of ID."
Lawmakers are particularly concerned about underage teens using the sophisticated new IDs to obtain alcohol.
"We're seeing kids as young as 12-years-old, ODing on alcohol. That's a tragedy," said Chuck Gennario, Rockville Centre's police commissioner.
"These IDs are nothing more than a free pass for underage kids to get their hands on booze and the consequences unfortunately can be very deadly," said Schumer.
"We've always been able to rely on government identification as being gospel. A person shows you a New York State driver's license, that's who they are. Now, law enforcement has to question, is that the person?" Gennario added.