Law enforcement technology

SWAT Team in Washington acquires heavily armored vehicle

The Tri-City Regional SWAT Team in Tacoma, Washington recently received a major boost to its arsenal of crime fighting tools;thanks to DHS grants, the Tri-City Regional Swat Team was able to purchase the BearCat, a $292,000 armored personnel carrier; the vehicle is heavily armored and is capable of stopping .30-caliber ammunition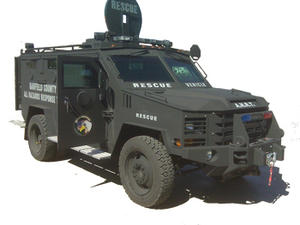 Washington's SWAT unit now has a BearCat like this // Source: onesixthwarriors.com
The Tri-City Regional SWAT Team in Tacoma, Washington recently received a major boost to its arsenal of crime fighting tools.
Thanks to DHS grants, the Tri-City Regional Swat Team was able to purchase the BearCat, a $292,000 armored personnel carrier. The vehicle is heavily armored and is capable of stopping .30-caliber ammunition.
Richland police captain Mike Cobb says the vehicle will be used every time the SWAT team is called in and is useful "as soon as one bullet goes whizzing by your head."
Cobb explains that the vehicle can carry up to fourteen officers as well as equipment into high risk situations. "It will go in, and it will be very hard to reach the occupants inside," he said. "This is the barrier."
SWAT team members can also stand on the sides of the vehicle if necessary and there is enough room inside the vehicle to allow team members to care for a wounded officer. The sides and back of the vehicle are outfitted with eight gun ports and there is also a roof mounted shield hatch which can be opened and locked into position.
In addition, the remote operated spotlights are mounted on each of the armored vehicle's corners and two cameras outfitted with infrared sensors help officers see what is happening outside.For added flexibility, an extension arm can be fitted to the front of the vehicle to open doors if someone is barricaded inside a building.
"The armored vehicle … represents a great deal of safety for other police officers and members of our community," Cobb said. "If we need to get people in under heavy gunfire, we can do it now."
"Before it's out of service, it will have saved a life," Kennewick police captain Scott Child added. "We are very thankful, and this truly does make our community a safer place."
The BearCat was custom-built for the department by Lenco Industries Inc. and replaces an old 1960s armored truck that the SWAT Team had retrofitted for use.
Some critics question why the SWAT Team needs such an expensive armored vehicle and why they are even called in to search homes or arrest individuals barricaded inside their own homes.
Cobb said the presence of a SWAT Team "exponentially [lowers]" the likelihood that an individual will use force and the armored vehicle is a critical tool that can be used to protect officers and the public.
"Tactical officers, they're that wall that stands between the threat and your family," Cobb explained. "Sometimes it's a scary wall … but it's all (about) 100 percent safety."
The new vehicle will serve much of Washington's south east as the Tri-City area SWAT Team also responds to calls in Yakima, Grant, and Walla Walla counties.