Taliban uses poisonous gas in attack on Kabul girls school
The Taliban continues its violent campaign against girls' education in Afghanistan; the Taliban's latest tactics; poisonous gas attacks on girls' schools, aiming to scare students and teachers; in mid-April the Taliban attacked three girls' schools in northern Afghanistan; yesterday, the Taliban attacked a school in the middle of Kabul; twenty-two students and three teachers were hospitalized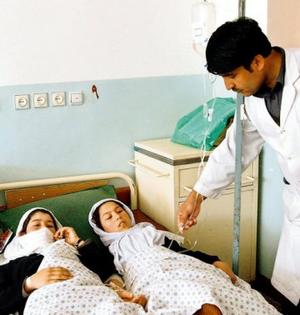 Two of the victims of a recent Taliban gas attack in hospital // Source: irishtimes.com
The Taliban medieval campaign against the education of women is intensifying. Twenty-two Kabul schoolgirls and three teachers fell suddenly ill and were hospitalized on Tuesday in what Afghan authorities described as the fourth suspected poison gas attack on a girls' school in weeks.
The incident was the first in the comparatively secure capital after three suspected poison attacks on girls' schools in the northern city of Kunduz over the past few weeks, and several at provincial schools last year (see "Taliban suspected in poisonous gas attacks on female Afghan students," 26 April 2010 HSNW).
Reuters reports that authorities have failed to identify the substance they say caused girls and teachers to fall unconscious, but say it could be a poison gas released by opponents of girls' education.
"I wanted to scream so hard and I felt like someone was choking me, moments after I smelt the gas," said Lailima, a 17-year-old student at the Durkhanai Girls School in western Kabul. "I want to finish my education with my family's permission, but I want the government to protect us."
Nooria Jan, a teacher who recovered after being knocked unconscious, said the incident terrified the girls at the school and could scare girls away from schools across the capital. "If the government doesn't do something to prevent this from happening, we would lose a large portion of our students."
The Taliban banned education for girls when they ruled Afghanistan from 1996 to 2001, and the issue remains contentious in many parts of the country. In many rural areas where the Taliban hold sway, girls' schools remain closed, teachers have been threatened and some girls have been attacked.
The Taliban have however condemned the suspected poison gas attacks and denied responsibility.
President Hamid Karzai's office said in a statement he "strongly condemned the shameful act of spraying poisonous gas at a girls' school today."
"The president was deeply saddened by this incident and called this an un-Islamic act, against Afghan culture. He said it is the work of those do not want the Afghan people to have a prosperous life through learning, education and knowledge."
Education Ministry spokesman Asif Nang said the twenty-two teenaged girls and three teachers had all been released from hospital after receiving treatment. "It could be the work of insurgents or any other group who want to disrupt the process of educating girls," he said.
Tuesday's incident followed the pattern of earlier incidents in Kunduz in recent weeks, as well as incidents north of Kabul last year. In each case, girls reported smelling something sweet, then fainting, dizziness and vomiting. None of the cases was fatal or led to long-term health problems.
Sameem Ahmadi, a doctor at a Kabul hospital where the girls were treated, said the poison appeared to be the same substance used in the earlier attacks. Once inhaled, it causes shortness of breath, vomiting and dizziness for about two hours. If untreated, it could be fatal, he said.
Ahmadi said samples of the suspected toxin had been sent abroad for analysis to find out what it is and how it can be used in attacks.