In the trenches: unmanned helicopters

Unmanned helicopter enters restricted airspace after losing communication

An MQ-8 Fire Scout lost communication with its operators and flew into restricted airspace around Washington, D.C.; typically during a lost communications event, an autonomous vehicle is preprogrammed based on its last waypoint to conduct certain activities, take a holding pattern, and wait for operators to reconnect; the Pentagon says: "We found a software anomaly that allowed aircraft not to follow its preprogrammed flight procedures"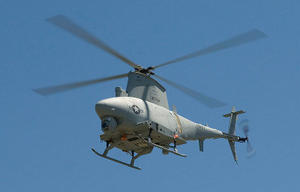 Northrop Grumman Fire Scout in flight // Source: robostuff.com
The Northrop Grumman MQ-8 Fire Scout is an unmanned autonomous helicopter developed for use by the U.S. armed forces. Northrop Grumman is developing the Fire Scout to provide reconnaissance, situational awareness, and precision targeting support.
The are many benefits to using autonomous, or unmanned, vehicle — but there are risks as well, and one such risk was on display earlier this month.
Fire Scout flight operations have been suspended pending an investigation of a lost communications link incident when the remotely piloted aircraft flew into restricted airspace around Washington, D.C., according to Capt. Tim Dunigan, program manager for multi-mission unmanned aerial systems (UAS).
Amy Butler writes in Aviation Week that on 2 August, a government pilot was at the controls of the aircraft flying around 1,700 feet in altitude during a test flight when communications, which are used for command and control of the vehicle, were lost. The MQ-8 experienced "lost link and proceeded 23 miles north/northwest out of [NAS Patuxent River, Maryland] into restricted airspace," says a statement from Dunigan in response to questions from Aviation Week. "The operator team shifted to another ground control station, restoring link and successfully commanding the vehicle to recover at Webster Field."
The airspace is an area restricted for visual flight rules only, he says. Also, it is likely Fire Scout test flights are tightly constrained in the military restricted airspace around Patuxent River because the Federal Aviation Administration (FAA) has not given allowance for them to operate in national airspace unless certain conditions are met. There were no injuries and there was not damage to the aircraft.
The series of events that prompted the aircraft to wander into restricted airspace around Washington, D.C., "had to line up just perfectly," says Rear Adm. William Shannon, Navy program executive officer for weapons and unmanned systems. He attributes the problem to a "software logic flaw."
Butler notes that typically during a lost communications event, the aircraft is preprogrammed based on its last waypoint to conduct certain activities, take a holding pattern, and wait for operators to reconnect. The software would be preprogrammed to avoid certain areas where it should not be flying. In this case "We found a software anomaly that allowed aircraft not to follow its preprogrammed flight procedures," Dunigan says. "We have identified the issue and have aircraft operating restrictions that will prevent this from happening again."
Operators would usually not require a second ground station to reestablish a communications link with the air vehicle. In this case, "We were in the process of resetting the first one so we just used the second GCS since it was available," Dunigan says.
There could be an element of operator error in the incident. Shannon says that a command was given by the operator just as the air vehicle would have shifted to its preplanned return-to-base procedure. So, the introduction of the command apparently played a part in the mishap.
Dunigan says flight operations are expected to resume in early September; the investigation is nearly complete. He plans to brief Navy leadership on the incident this week.
Shannon said the Navy was in contact with air traffic control at all times during the incident and the Fire Scout was squawking that it was experiencing a loss communications incident.
Butler writes that it is unclear whether the incident — and the stand down of flight test for a full month — will impact plans to begin operational evaluation this fall.