In the trenches

U.S. Army tests robot batteries-and-bandwidth war-mules

Published 28 October 2010

The U.S. army remains determined to kit out all its ground troops with portable, wearable networking gear which will provide them with communications as well as an accurate idea of where everyone is; trouble is, when you have to generate your own wireless coverage as you go from the same kit, this means a lot of power — and this, in turn, means a crippling load of batteries; Lockheed Martin has a solution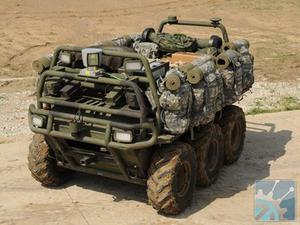 Lockheed Martin's Squad Mission Support System // Source: engineeringtv.com
The U.S. army remains determined to kit out all its ground troops with portable, wearable networking gear which will provide them with communications as well as an accurate idea of where everyone is. Trouble is, when you have to generate your own wireless coverage as you go from the same kit, this means a lot of power — and this, in turn, means a crippling load of batteries.
Lewis Page writes that the solution could not be more obvious. What is needed here is a small intelligent robot car, able to follow a dismounted team of soldiers about and carry a network node for them all to connect to — like trundling mobile mast — and, also, to carry and charge up extra batteries for the troops as well.
Lockheed Martin has just complete what we may describe as a batteries-and-broadband mule vehicle. The machine is dubbed Squad Mission Support System (SMSS) and it is to undergo trials with the U.S. 1st Infantry Division at Fort Riley, Kansas, next month.
The Big Red One, as the 1st are known, will also be equipped with Nett Warrior wearable communications and network gear for the exercises — hence the addition of the SMSS in battery-and-backhaul mode. A single platoon of 30-40 troops with Nett Warrior can expect to run flat no less than 140 batteries weighing 155 pounds every day. "Forget bullets and beans, it's batteries the modern soldier needs," page rightly notes.
This is where Lockheed thinks the SMSS will shine. It will be equipped with not only a Mobile Network Integration Kit "to improve communications from the network to the platoon," but also with chargers capable of topping up fully 146 batteries in just ten hours, easily keeping pace with a couple of platoons' usage. It can also carry other stuff as required.
"Soldiers deserve the best possible situational awareness, communications, optics, sensors and protection, and the SMSS will help power it all and relieve their burden," says Lockheed's Jim Gribschaw. "SMSS represents much more than a portable charging station; it can carry more than half a ton of the Warfighters' supplies and can autonomously follow the squad, allowing the soldier to put down the remote control and focus on the fight."