Military technology

Is the U.S. military interested in a Kiwi Jetpack?

Published 8 September 2010

Kiwi company claims the U.S. military is interested in its Jetpack (not really a jetpack, but personal ducted-fan aircraft too heavy to be lifted by its user); the company made the headlines in the spring by saying it was about the sell the first commercial jetpack for $75,000 a piece; the price has since gone up a bit, to $140,00 a unit, but the company says that 1,600 people have "expressed interest" in buying the Jetpack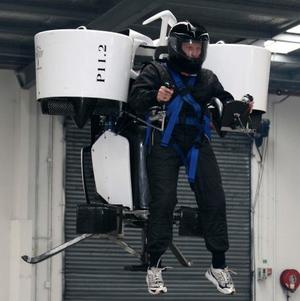 The Martin Jetpack in action // Source: gadgetreview.com
A New Zealand company founded by a garage inventor says it is in talks to sell its "Jetpack" — a personal ducted-fan aircraft too heavy to be lifted by its user — to the U.S. military.
The New Zealand Herald reported that inventor, Glenn Martin, founder of the Christchurch-based Martin Aircraft Company, says his firm is in talks with the U.S. Defense Department.
"We're already dealing with Rockwell Collins. We've got conversations going with [Boeing, Raytheon and Rockwell Collins] and more, in particular those conversations are being led by the U.S. Department of Defense," he told the paper.
Martin invented his Jetpack in his garage, and has been working on it for decades ("World's first practical jetpack commercially available for $75,000," 11 March 2010 HSNW). Lewis Page writes that weighing well over 250lb, it is much too heavy to realistically be described as a "pack" — rather it is a small aircraft which you strap into, as opposed to strapping on. Nor does the Jetpack feature any jets, instead using a two-stroke engine to power two large ducted fans.
The Jetpack, despite not being a jet or a pack, became famous during the summer of 2008 after a New York Times reporter used one to hover about at a U.S. airshow.
Page notes that since then Martin and his colleagues have struggled to stimulate any serious interest in their machine. The New Zealand government's Foundation for Research, Science and Technology has awarded the inventor a grant of NZ$1 million, and the firm says it has received $12 million for manufacturing and distribution rights in an unnamed foreign nation. The company also claims that as many as 1,600 people have "expressed interest" in buying a Jetpack for $140,000 each.
The foreign rights sale last year was described as insufficient to get the Jetpack into manufacture by Martin Aircraft chief executive Richard Lauder, who stated at the time that the cash "will give us a lifeline but it doesn't give us the sort of venture capital we need."
Page writes that it is always possible that the U.S. military might want the Jetpack for some reason, but it is hard to see why. There are already various working one-man aircraft which offer superior portability and would be just as good for most jobs — and the U.S. military is not interested in those, either. The Herald reports suggestions by Martin and Lauder that an unmanned version might be on the cards, but there are many proper, working VTOL UAVs already available.
"The credence of the supposed defense department talks was also rather undermined by apparent differences of opinion between Martin and Lauder on the desirability of military sales, with Martin saying he would be 'pretty pissed off' if his invention wound up being used to carry weapons," Page writes.