Commonwealth Games

Delhi proposes unprecedented security at Commonwealth games

Published 21 September 2010

The security measures India has put in place for the Commonwealth Games surpass those instituted for Delhi's Independence Day and Republic Day; in all, the Games will be secured by more than 80,000 Delhi police personnel, 17,500 paramilitary personnel, 3,000 commandos, 100 anti-sabotage teams, more than 200 dogs, and 15 bomb squads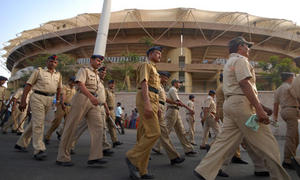 Police preparing for Commonwealth Games // Source: guardian.co.uk
More than 80,000 Delhi police personnel, 17,500 paramilitary personnel, 3,000 commandos, 100 anti-sabotage teams, more than 200 dogs, and 15 bomb squads will secure the Commonwealth Games, scheduled to begin 3 October 2010. IndiaToday's Bhuvan Bagga reports that the 10,000 + athletes, Games officials, dignitaries, and spectators expected to attend the event will witness a security spectacle that will surpass Delhi's Independence Day (60,000 armed security personnel) and Republic Day (15,000) receptions. X-ray scanners, CCTV systems, and no-fly zones will be implemented and enforced during the events as well.
Sniper teams will be deployed in and around the airport to receive incoming athletes and provide support for drivers with radio frequency identification tags (RFID). Fifteen security posts, manned by the Delhi police, will separate the airport and the Games Village — a distance of approximately twenty-two kilometers. The heart of Delhi, along the riverbanks of the Yamuna, will hold the Games Village
According to MapsofIndia.com, Delhi offers an interconnected and convenient means of transportation, where one could easily access important traveling points by taxis, buses, railway, metro rail, and other modes.
Also among the security provisions: food and water will be approved by security personnel and food experts before being distributed to athletes and visitors at approved hotels.
Security for the exposed events, such as cycling, marathon, and walkathon, will see a combination of snipers and commandos along the designated routes through marketplaces and residential areas.
Despite reports that venues for the Commonwealth Games have missed several reparation deadlines, a video by NDTV, a private television company in India, shows that preparations should come full circle in time for the events.