Wildfires

More intense wildfires are here to stay, and we need to adapt

Update on state of Canada's mountain regions looks at human scale of ecological disaster wrought by changing climate. "Events that a decade ago we would call '100-year events' are quickly becoming the norm," said one researcher. We need to talk "about ways we can coexist with fire because it is our new reality."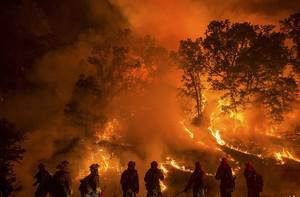 Some contend greater wildfires because of climate change // Source: flickr.com
Zac Robinson remembers hiking through B.C.'s Monashee Mountains last August and, on a cloudless day, staring directly into the sun.
What made his look upwards a possibility was the smoke collecting from more than 560 B.C. forest fires all burning in unison, making the air quality in Western Canada the most hazardous in the world.
"It was dark and eerie, it was wild, and it shaped our conversations, which turned from the fire and the smoke to how fire is connected to larger processes at work that are pushing change in the alpine," said Robinson, a mountain historian at the University of Alberta, who was leading a dozen students through a skills course as part of the Alpine Club of Canada's summer-long general mountaineering camp.
"We would wake up in the morning and brush ash off our tent that had accumulated in the night. Then we would talk about what this material that is just falling everywhere does to glaciers."
Robinson explained while white snow reflects light, energy and heat really well, the dark elements of the ash do just the opposite. In essence, the forest fires and resulting ash become a "feedback loop for mass wastage of these glaciers."
It was then that Robinson and former U of A mountain ecologist David Hik decided wildfires were going to be the main focus of the ACC's 2019 State of the Mountains Report.
Tracking a new reality
In its second year, the annual report is a collection of expert summaries written to raise awareness about the ways a changing climate is transforming the alpine.
Alberta says that the pair, along with fellow editor Lael Parrott, reached out to Lori Daniels, a University of British Columbia conservation researcher, to write an essay on the vital role wildfire has on ecosystem function and how that understanding has exposed shortcomings of past fire suppression and timber production, and how "learning to coexist with wildfire is critical as our society adapts to climate change."