Aviation security

Final phase of TSA's Secure Flight program taking effect

As of 1 November, all domestic airlines will collect passengers' names, dates of birth, and gender of passengers at the time of booking a flight; international carriers will do the same by the end of the year; passengers who do not enter all information at least seventy-two hours prior to departure will not be able to print out boarding passes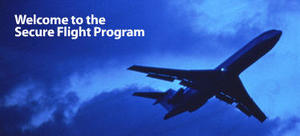 The TSA's Secure Flight Program nears // Source: norcalblogs.com
No full name, date of birth, or gender on your airline reservation? Then no boarding pass, according to a security rule that goes into effect soon.
The final phase of the Transportation Security Administration's (TSA) Secure Flight program requires airlines to collect complete information from passengers at the time they book their flights. Passengers who do not enter all information at least seventy-two hours prior to departure will not be able to print out boarding passes; instead, they will need to provide the information at the airline counter before a pass is issued.
Hannah Sampson writes in the Miami Herald that the rule applies to all travel commencing 1 November on all flights on domestic airlines; international carriers are expected to be on board by the end of the year.
The regulation is designed to aid
TSA
in vetting travelers against government watch lists — and to smooth the process for passengers who have names similar to those flagged as risks.
"It makes it more efficient and it provides that extra passenger convenience, which is that they don't have to start supplying information at the airport to be vetted properly and to get their boarding pass," said Sari Koshetz, a TSA spokeswoman.
This is the information needed at booking: first, middle, and last name as it appears on the government photo identification used for traveling; date of birth, and gender. Passengers who incorrectly have been identified as a flight risk must also enter their redress number.
Airlines have been phasing in the additional information request for months now and say travelers who regularly book online should not notice much of a difference.
American Airlines spokesman Tim Smith said the full information has been requested but not required at the time of reservation until earlier this month, when the airline starting mandating it to complete a booking. The vast majority of customers complied, he said.
"It's pretty basic information for most people," he said. "It's much more likely to keep them off the extra screening list or even the no-fly list that TSA maintains."
American has sent e-mails to customers urging them to include all the information in their frequent flier account so they don't have to enter it every time they book a flight.
Sampson writes that passengers who previously booked flights for travel after 1 November and did not include the full information must fill in the blanks at least seventy-two hours before departure. This is when TSA starts vetting the reservations. After the 1 November deadline, the agency will not allow boarding passes to be printed if the full passenger information is incomplete.
Delta warns on its Web site that flight reservations could be canceled if the information is not filled in prior to seventy-two hours before takeoff.
The information will be required on third-party online booking sites and with travel agents as well as directly through the airlines, according to TSA.
David Castelveter, spokesman for the Air Transport Association, said airlines have updated their reservation systems as needed since TSA started requiring airlines to collect the data a year ago.
He said compliance on the part of passengers is necessary for their ease of travel.
"What will happen, as of 1 November, is if you do not provide the information that is required, not only can the airlines not issue you a boarding pass, but you may be denied travel, end of story," he said.